High quality and eco-friendly products
NEUTRALFUTUR: ultra-concentrated multipurpose cleaner
This modern multipurpose cleaner works best in the kitchen, bathroom and on floors. Neutralfutur is ultra concentrated and very economical to use. It has a strong degreasing power and can eliminate the most stubborn stains. Its surfactants come from renewable raw materials. They are completely biodegradable (metabolic test).
The dispenser is delivered empty. You can fill it with the 2 liters bottle.
HAKABELLA: Polishing wax emulsion
Polishing wax emulsion with natural carnauba wax, perfect for all modern floors. Hakabella maintains linoleum, plastic flooring and tiled floors. Shine when dried, there is no need for rubbing and it can be repolished. It can be easily removed by washing with NEUTRALSEIFE. Tip: Hakabella can also be added directly into the water (two caps for 5 liters of water). At the same dosage, Hakabella is also suitable for the maintenance of the exterior of your car.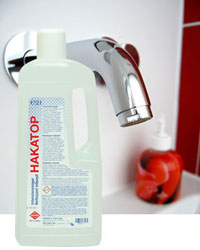 HAKATOP: ph2 acid intensive cleanser without perfume or dye
Cleans and descales stubborn stains on tables, toilets, stainless steel sinks, refrigerators, freezers, taps, electric kettles, shower heads, stainless steel dishes and plastics. Contains a powerful disinfecting agent. Tested and advised by Hans Grohe as a cleaner.
HAKATOP CITRO: descaler and acid cleaner
This powerful descaler and cleanser respects the environment. Quickly and efficiently removes limescale or soap deposits, water stains and other soiling. Without disinfectant agent and perfumed with lemon. Hakatop Citro cleans bathtubs, sinks, shower trays, toilet bowls, urinals, tiles, synthetic worktops, stainless steel sinks, faucets, dishwasher, washing machine drums and the outside of your car (in particular shocks and wheel trims). Hakatop Citro contains no preservatives, phosphates or disinfectants but citric acid and highly biodegradable surfactants. Tested and advised by Hans Grohe as a cleaner.
Fensterklar: Clearwindow
For your windows, mirrors, tiles, glass tables and even your car's windshield washer. Apply Clearwindow on the surface to be cleaned and wipe with a dry cloth, our microfiber glass cloth or our synthetic microfiber skin. For a glossy surface free of dirt and grease. Contains no chlorine, no glycol ether, no benzene, no formaldehyde, no CFC, only natural fragrances.
KRAFT-REINIGER: intensive alkaline cleaner
Dissolves quickly and effectively all stubborn fat. Sorella Power Spray easily removes burnt grease and all oil stains and soot. Also very effective to clean large and vertical surfaces. Without chlorine. Especially suitable to clean ovens, barbecues, fireplaces, hoods, air vents, pots, pans, baking trays, stainless steel sinks and bicycles. In case you are dealing with delicate surfaces, first test on a small hidden part of the surface to avoid bad surprise.
HAKASINOL: concentrated disinfectant cleaner, super active degreaser, bactericide and fungicide
Made without formaldehyde or any other negative substances. This colorless liquid contains no added fragrance. High degreasing power compared to its high pH12, easy rinse, low sensitivity to protein soils and easily biodegradable.
Contact us and tell us more about your project and needs. We will answer as soon as possible.